MM Good Book Reviews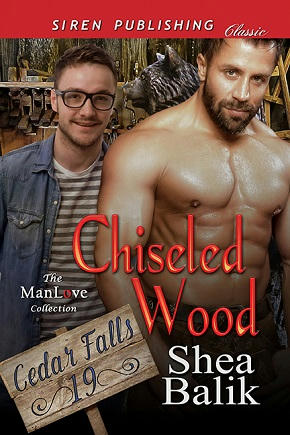 Title: Chiseled Wood   
Series: Cedar Falls #19   
Author: Shea Balik
Genre: Contemporary
Publisher: Siren-Bookstrand, Inc. (May 4, 2017)
Length: Novella (148pgs)
Heat Level: Low
Heart Rating: ♥♥♥♥♥ 5 Hearts
Blurb: Welcome to Cedar Falls, a small North Carolina town nestled amongst the Smokey Mountains. Where the people are friendly and the men are hot.
Kyler Prince is determined to find his place in this world. But with only the sheltered commune he grew up in as experience, his hope of finding somewhere he could fit in seems impossible. That is, until he ended up in Cedar Falls.
Aaron Garnett has dark desires. After he meets Kyler, he fears the innocent man would run if Aaron ever showed him what he truly wanted in a lover. But Aaron's just not sure he has the strength to stay away from Kyler.
Can Kyler convince Aaron that his desires run just as…
View original post 521 more words